Shortcutx
Regular price
Sale price
$96.00 SGD
Unit price
per
Sale
Sold out
EXTREME WEIGHT LOSS COMBO!
SEE RESULTS IN JUST 7 DAYS!
Bundle of 4:
2 Boxes of Fat Burner Apple Cider Fruit Juice (14 sachets total)
2 Boxes of Caramel Machiatto Slimming Coffee (14 sachets total)
______________________________________________________________________________________
Shortcutx Fat Burner Apple Cider Fruit Juice is the ultimate fat burner in apple juice flavour formulated for WEIGHT LOSS! It is packed with fat burning ingredients using Apple Cider Vinegar as the main ingredient.
✔ Fat Burner juice in delicious apple flavour!

✔ See results within 7 days!
Our formula focuses on individuals who wish to lose their weight easily. It comes in handy ready-to-drink sachets so you can consume on the go! Best of all, Shortcutx is gluten-free, gelatin-free and completely vegan.

______________________________________________________________________________________
Power packed with superb natural fat-burning extracts (MCT Lipid Powder, African Mango Seed Extract, Green Coffee Extract, L-Carnitine), bringing you a unique and guilt-free way to lose weight, without compromising the flavor and aroma of coffee. This delicious slimming coffee helps to curb your appetite longer, increase metabolism, and burn fats at the same time. Your daily morning and afternoon companion got healthier!
Our 7-day sugar-free formula is proven effective to boost energy level, stimulate body fat burning, while curb sugar craving. This makes it a perfect coffee ingredient to add to a wide range of snack ideas and treats. 
Key Benefits:
* Lactose-free, Gluten-free and Keto-Friendly
* Packed with natural ingredients to promote healthy weight loss
* Helps with water retention
* Reduce excessive appetite & cravings
* Boost metabolism
* Increases energy
* Best for weight loss & weight maintenance
* Safe for diabetics
Shortcutx Caramel Machiatto Slimming Coffee is not just a diet alternative, but your go-to, daily coffee treat for you and your family, all year round. Customers can consume this in combination with Shortcutx Apple Cider Vinegar Fat Burner Juice for better weight loss results - the perfect combo for weight loss products that work fast for men and women.
Our slimming coffee is designed for women & men, helping support weight loss and detoxing. This metabolism booster for weight loss contains ingredients that help reduce abdominal bloating, supports digestion and works as an appetite suppressant, helping you on your weight loss journey. 
How to Consume:
Fat Burner Apple Cider Fruit Juice
Recommended Dosage – Consume one sachet in the morning on an empty stomach. For best results, please take a minimum of 1-2 months dosage.
Caramel Machiatto Slimming Coffee
Empty 1 sachet (20g) and mix with 150ml of hot water and mix well. Enjoy in the morning/afternoon to curb carving or whenever hunger pangs take over. This slimming coffee can also be enjoyed hot or cold. Drink daily for best results.

For maximum results, consume this product at least 2 hours after Shortcutx Apple Cider Fat Burner.
Storage:
Keep in a cool and dry place. Avoid direct sunlight. Keep out of reach of children.
Precaution:
If you are nursing, pregnant, or with a medical condition, consult your health care practitioner prior to using this product.
Share
Ingredients

Fat Burner Apple Cider Fruit Juice:
Apple Cider Vinegar extract, RO water, Apple Powder, Kiwi Powder, Raspberry Extract, Nutgrass Extract, Green Tea Extract, Pumpkin Seed Extract, Guarana Extract, Barley Extract, L-Carnitine, Wheat Fiber, Inulin.

Caramel Macchiato Slimming Coffee:
Instant Coffee Powder, Non-Dairy Creamer, Skim Milk Powder, Coffee Flavour, Caramel Flavour, Milk Enhancer, Green Coffee Extract, MCT Lipid Powder, Guarana Extract, African Mango Seed Extract, LCarnitine, Multivitamin and Stevia Extract
View full details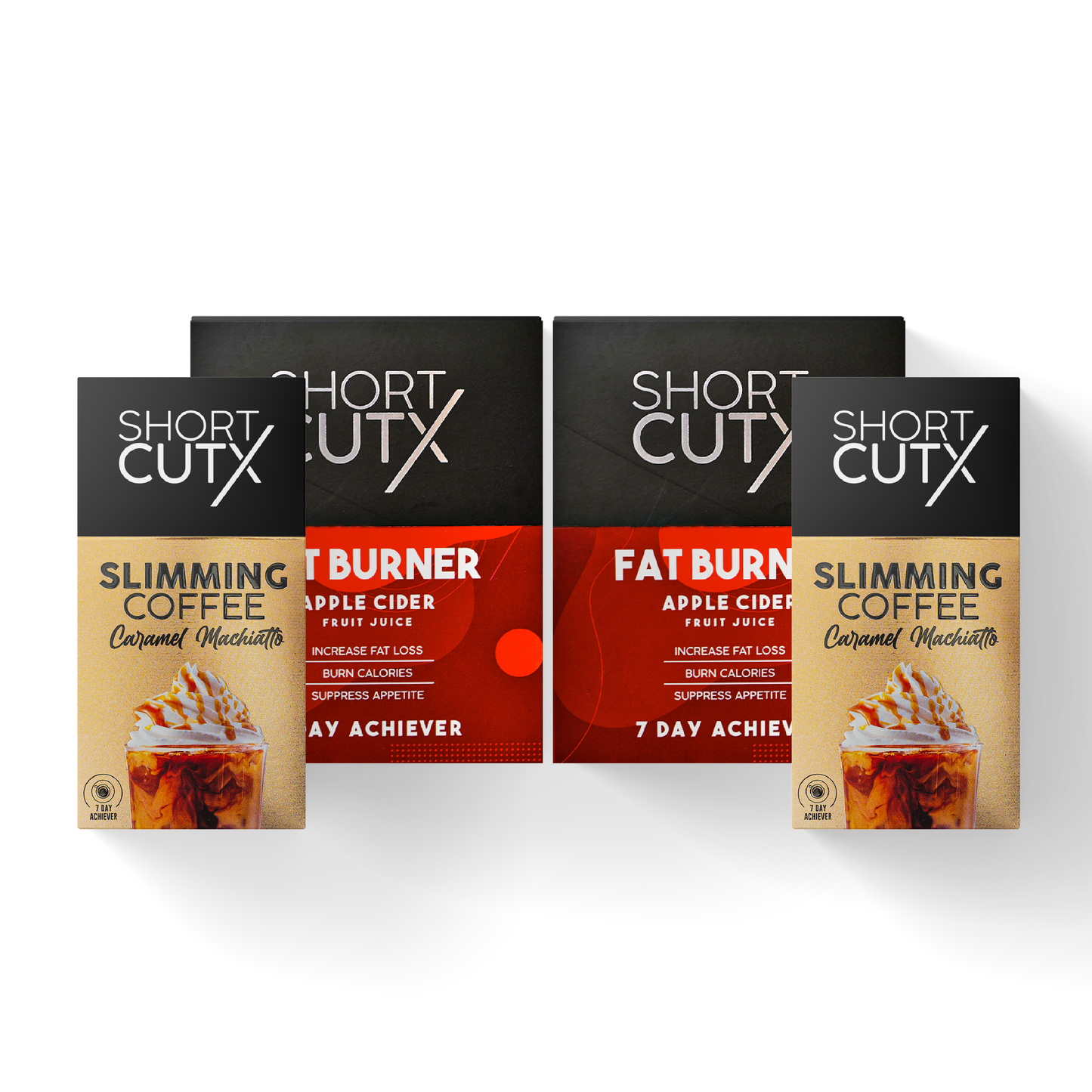 It helps my bowel movement, it controls my appetite but I don't see much difference though 😑will try more soon, I guess
Apple cider and slimming coffee
Both works really well to surpress appetite. I perspire more during my workout and poo more. I have lost 2kg in 5 days.