Shortcutx
Regular price
Sale price
$96.00 SGD
Unit price
per
Sale
Sold out
Bundle of 4:
2 Sets of Fat Burner Lychee Lemon Fruit Juice (total of 14 sachets)
2 Sets of Caramel Machiatto Slimming Coffee (total of 14 sachets)
Introducing Lychee Lemon - the newest addition to our selection of Shortcutx Fat Burner Juices. Crafted with precision, this invigorating blend combines the juicy essence of lychee with the zesty tang of lemon, providing a refreshing flavor that will leave you wanting more.
Key Advantages:
 ✔ Made with all-natural ingredients. Functions as a natural fat burner.
 ✔ Helps control your appetite.
 ✔ Enhances your body's digestion.
 ✔ Boosts your metabolism for faster fat burning.
 ✔ Advanced formula that hinders carb absorption.
 ✔ Safe for individuals with diabetes.
 ✔ Safe for breastfeeding mothers.
Loaded with potent natural extracts for fat burning (MCT Lipid Powder, African Mango Seed Extract, Green Coffee Extract, L-Carnitine), this marvelous slimming coffee offers a unique and guilt-free approach to weight loss, without compromising the delightful flavor and aroma of coffee. This delicious beverage helps suppress your appetite, increases metabolism, and burns fat simultaneously. It's the perfect companion for your mornings and afternoons, now with added health benefits!
Our 7-day sugar-free formula has been proven effective in boosting energy levels, stimulating body fat burning, and curbing sugar cravings. This makes it an ideal coffee ingredient to incorporate into a variety of snack ideas and treats.
Key Advantages:
✔  Lactose-free, Gluten-free, and Keto-Friendly.
✔ Enriched with natural ingredients to promote healthy weight loss.
✔ Aids in reducing water retention.
✔ Decreases excessive appetite and cravings.
✔ Enhances metabolism.
✔ Boosts energy levels.
✔ Ideal for weight loss and weight maintenance.
✔ Suitable for individuals with diabetes.
Shortcutx Caramel Machiatto Slimming Coffee isn't just an alternative for dieting, but a go-to, daily coffee treat for you and your family throughout the year. Customers can consume this in combination with Shortcutx Apple Cider Vinegar Fat Burner Juice for better weight loss results - the perfect combination for fast-acting weight loss products designed for both men and women.
Our slimming coffee is specially designed to assist women and men in achieving weight loss and detoxification goals. This metabolism booster contains ingredients that aid in reducing abdominal bloating, support digestion, and act as an appetite suppressant, helping you on your weight loss journey.
How to Consume:
Lychee Lemon Fat Burner
Recommended Dosage: Consume one sachet in the morning on an empty stomach. For optimal results, continue this dosage for a minimum of 1-2 months.
Caramel Machiatto Slimming Coffee
Empty 1 sachet (20g) into 150ml of hot water and mix well. Enjoy in the morning or afternoon to curb cravings or whenever hunger strikes. This slimming coffee can be enjoyed hot or cold. Drink daily for best results.
For maximum effectiveness, consume this product at least 2 hours after Shortcutx Apple Cider Fat Burner. 

Storage:
Keep in a cool and dry place. Avoid direct sunlight. Keep out of reach of children.
 Precautions:
If you are nursing, pregnant, or have a medical condition, consult your healthcare practitioner before using this product.
Share
Directions

For this combination, we recommend consuming the Lychee Lemon Fat Burner in the morning on an empty stomach, and the Caramel Machiatto Slimming Coffee in the afternoon, 30 minutes before lunch.
Ingredients

Caramel Machiatto:
Instant Coffee Powder, Non-Dairy Creamer, Skim Milk Powder, Coffee Flavour, Caramel Flavour, Milk Enhancer, Green Coffee Extract, MCT Lipid Powder, Guarana Extract, African Mango Seed Extract, LCarnitine, Multivitamin and Stevia Extract

Lychee Lemon:
RO Water, Lychee Juice Powder, Lemon Powder, Green Coffee Bean Extract, L-Carnitine, L- Arginine, L-Lysine, Guarana Extract, White Kidney Bean Extract, Chicory, Probiotic, Inulin
Dietary Restrictions

Not suitable for pregnant women
View full details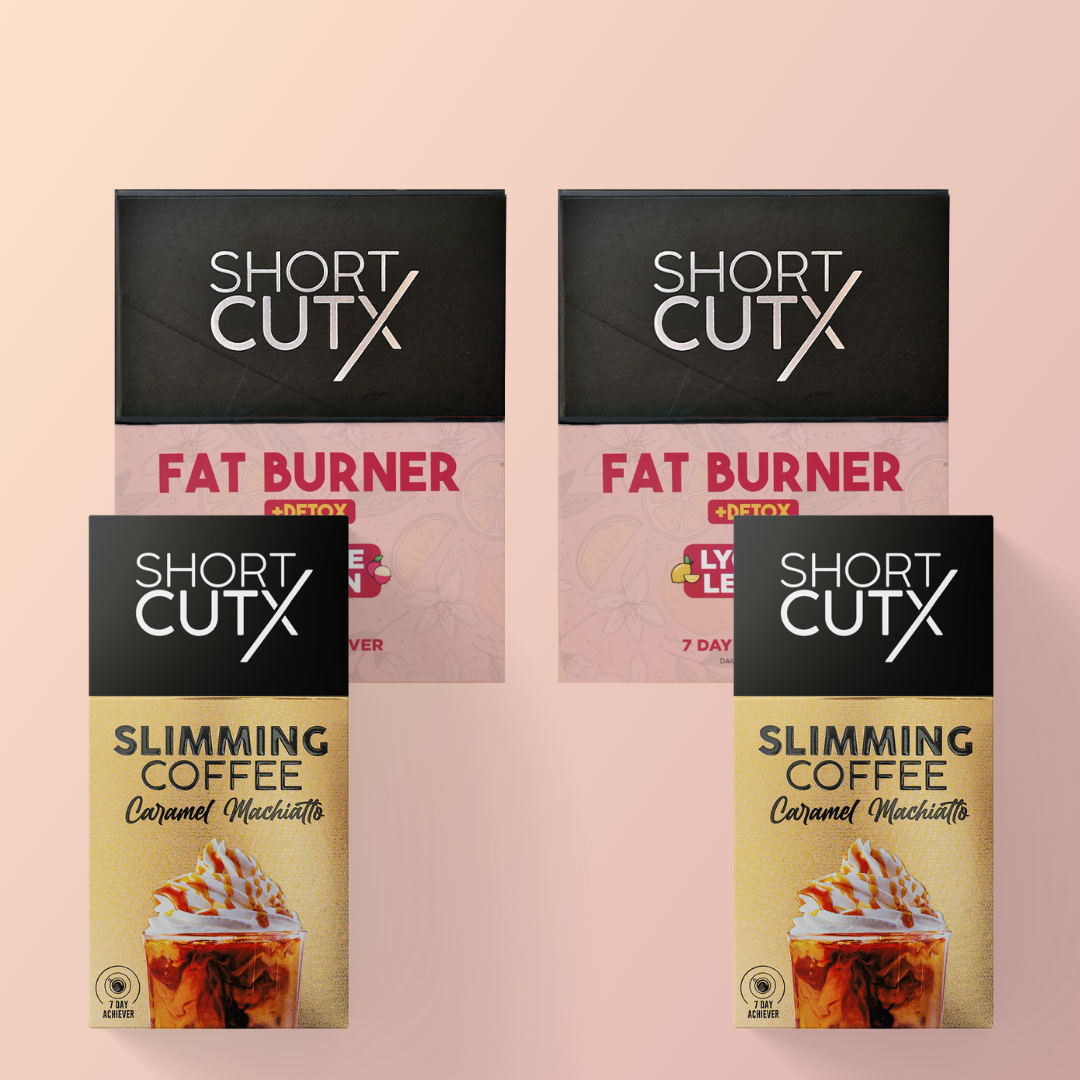 [BUDLE OF 4] 2x Lychee Lemon Fat Burner + 2x Caramel Machiatto Slimming Coffee